TS4plus lift-transfer units permit the transfer of pallets between parallel conveyor lines. They lift the pallet above the roller chain surface and transfer it perpendicular to the main line with a fl at-top chain conveyor segment.
Depending on the application, the pallet is transferred either across track rollers (for transfer between two closely spaced parallel lines) or to another conveyor chain section (for greater distances or shunt lines).
Two common line layouts are shown on the next page to demonstrate common HQ4 applications.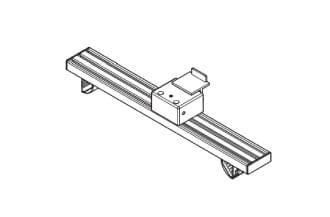 WI4-S/100, WI4-S/250 Cushioned Transfer Stop for HQ4