EcoShape – The tubular framing system for new dimensions. With EcoShape, you can build custom structures that require very few components. Planning is easy, too, thanks to the new MTpro design software and the ability to make virtually any connection with a few standard parts.
The 19 standard components are designed in accordance with the poka yoke principle, making them quick to assemble and prohibiting any faulty connections. The assembly line can be improved and expanded at any time in line with the kaizen philosophy.
The system allows you to quickly and economically custom plan and build flow racks, material shuttles, workstations and any other frame systems to meet your specific needs.
With the aid of just 19 EcoShape components you can achieve continuous improvement (kaizen) and quickly and economically adapt existing systems to new demands on site. All EcoShape systems are ESD-conductive and suitable for use in ESD-sensitive areas. All connection elements are made such that the anodic coating on the aluminum profiles is broken to ensure ESD conductivity throughout the system without the need for risky extra wiring. No further ESD elements are required – with EcoShape you have everything in a single package.
Ergonomics
The combination of lean production and ergonomics results in an unbeatable strategy to help you achieve short production runs and reduced costs. EcoShape unites low investment expenditure with high flexibility and quality, including in the area of ergonomics. The ergonomic accessories found in the MPS program can also be used with all EcoShape workstations and flow rack systems.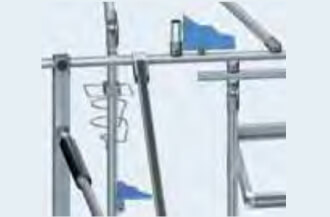 EcoShape Tubular Framing System